It's worth keeping an eye on illustrator Jack Teagle. Describing his style as 'obsessive, yet simplistic with a characteristic nervousness in the line', Jack's work is appealing for it's dark humour and refreshing quality. Jack tries to limit his colour palette when painting and often ages his pictures for effect.
"My work references a lot of my hobbies and interests, I'm a bit of a nerd so recently I've been incorporating pop culture elements into my work, and I've started to create a few of my own comics and books."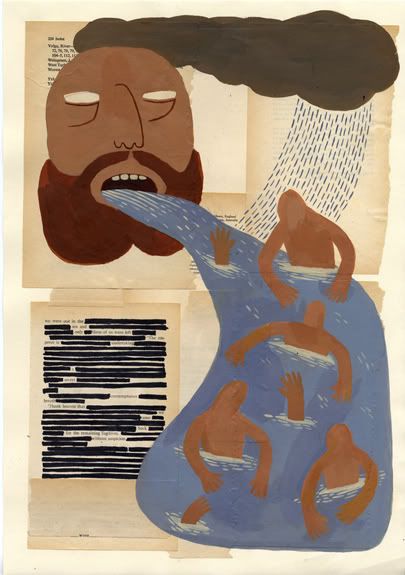 Jack is in his final year at Plymouth University in the UK studying illustration, and he hopes to become a full time illustrator upon graduating.
"It's been a pretty long journey, I've never really known what I wanted to do, my problem was I was looking at artists whose work I loved that I was trying to mimic, I couldn't, one day I just gave up, decided to have a lot more fun and be myself with what I did and my style and way of working just developed, I'm told I'm sarcastic and have a strange wit, and I think that seeps into my work and helps make it unique."
Jack's inspiration comes from a wide variety of sources, including alternative comic artists like Robert Crumb, Charles Burns and Joan Sfar, as well as the illustration of Gary Baseman and James Jean.
"I love kitsch imagery, Kaiju, folk artwork, and pulp horror and science fiction stuff too, geeky stuff. I'm a big fan of Hieronymus Bosch and the sheer obsessiveness to his work."
When asked about what Jack plans for the future: "I'm hoping to build up more of a narrative and my own little universe within my work. I have these characters floating around in white space, and I want them to connect. I'd love to try out some comics and hopefully get a batch of professional self-Publish books out there to distribute, and get into full time publishing. I really just want to create images and see where my work takes me at the moment."
Good luck for the future, Jack!
See his gallery on Deviant Art