A cool illustrator I had the pleasure of stumbling upon is one Nick Sirotich, from Sarasota in Florida. The colours and fluidity in his work are particularly striking, with an almost sherberty sweetness that oozes from them.
Nick has always had a passion for art and drawing, and was heavily influenced by the urban, hip hop and gang culture of his high school. Over the years, these influences, including life in Florida, as well as his graffiti and tattooing that he began when he was 15 had a strong effect on his work. He is currently a senior at the Ringling College of Art and Design where he is soon to graduate, and currently also works as a freelance illustrator.
Kracken:

On being asked about his work process and equipment used:
My work is strongly influenced by line, which I attribute to my career in tattoos. I like to use Micron pens but not really limited to anything. I like acrylic, gouache, watercolor, markers, spray paint, and I've been having some fun with digital coloring of inked pieces recently. I'm not fond of photo realism in my own work. I focus more on distortion and gesture because I feel it says more than photos can.
Fish-splosion: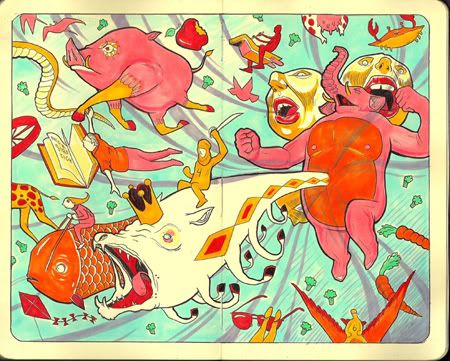 Golfer Ninja:


Obama:

I asked Nick what his illustration plans for the future were:
Anything and everything really, I'm about to graduate and I'm looking for new projects all the time, I will be independently publishing a book this may and I'm pretty much open to anything I feel I would do well.
To view and purchase his prints, have a look at these.
Thanks Nick!

Moon Ape