I'm really liking the striking and beautifully designed imagery of Mar Hernández. The Spanish illustrator, known as 'Malota', has recently created a set of screen prints, which clearly suit her clean, geometric style.
Having a degree in Fine Arts, Mar did not have the chance to get into screen printing whilst at university. However, since then, she has been introduced to the process by friends working at a screen printing studio. Because she wanted to learn new things and avoid sitting in front of the computer as much as possible, she began working with screen prints in this way.
Mar describes her process as follows:
'To draw the illustrations for the screen print process I use freehand. I don't usually make sketches for this kind of work. I have an idea and I play with it for a little while in freehand to find the right shapes and the colors. After that I prepare each ink separately.'
I asked Mar if it was difficult/expensive for illustrators to get their work on screen prints. Her response was that it is possible to hire a professional service to get these done for you, but to lower costs, it is best to order large quantities of prints. An example of a company that can do this is here.
Mar prefers to use a studio to print her own series of prints, particularly as it is less of an industrial process, more enjoyable, and the process is prone to inconsistencies, which adds to the quality of the work.
It is also possible to print your own work at home and there are numerous cheaper alternatives. For example, the London Graphic Centre or Ryan Screen Systems provide low cost equipment such as frames and squeegees to get you started at home.
A relatively cheap and compact machine from Japan called 'Print Gocco' is another fun way to get your illustrations screen printed at home. They are no longer being manufactured, but the machine can be find through several outlets, including ebay. A great tutorial on how to use one is found here.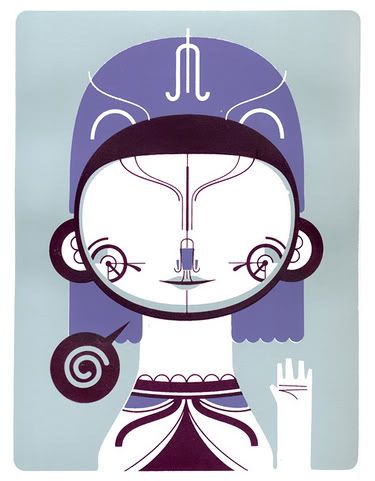 Malota has plans for more prints in the future, and is working on more prints for her exhibition in Mexico in August, 2009. Moon Ape wishes her the best of luck!
Prints, postcards, custom toys and more can be bought at her shop.