Mexican illustrator Carlos Lerma, otherwise known as 'Lerms' has a portfolio that is a treat for lovers of contemporary illustration and characters. Lerms is influenced by people as diverse as Yoshitaka Amano, comic artist Craig Thompson, Hope Larson and Sean Galloway, describing himself as a 'fan of everyone and everything'.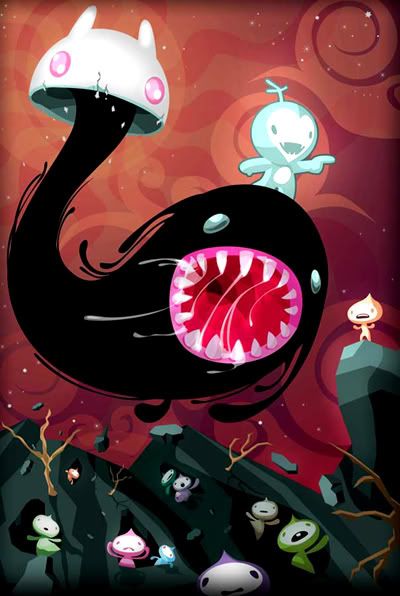 Lerms' work process begins with a pencil and paper or napkin. When he is happy with an illustration concept he will draw a more detailed sketch, with fewer rough lines, scan or photograph it, before vectorizing his work in Adobe Illustrator.
A great video of his work process can be seen here:
Carlos' key piece of advice when working in this way is to 'learn the program, make it your friend, and don't limit yourself. Most of the real work and the kind that makes your work pop
out comes from the sketching and not from the software'.
Lerms is currently working on some mascots, illustrated logos, character designs and some general layouts. On top of this:
'I'm sketching and developing a series of paintings based on a story I've written over the last year and a half, which I plan to (eventually) turn into some kind of novel or series, who knows!'
ⓒ Carlos Lerma, 2009
In the future, Carlos plans on delving deeper into comics and graphic novels and even animation. 'I want to tell stories, that's what makes me want to draw, so I want to push harder that way'.
MoonApe, follow me!