Based in Beijing, China, Nod Young is a co-founder and Creative Director of Khaki Creative & Design and an artist whose passion lies in typography and graphic design. Although he is most keen on the design styles coming out of the UK and Japan, I was recently impressed with Nod's series of illustrations based on the traditional paper cutting styles from China.
After being exposed to computer graphic arts, Nod began creating digital artwork using Adobe Illustrator 8. This led to him founding his current company that uses clean and strong visuals to fulfill diverse marketing strategies for clients that include Nokia, Greenpeace and Symantec.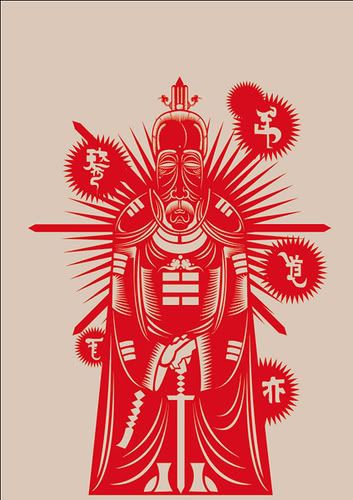 'The style in my artwork is based on traditional paper cutting styles from Shanxi Province in China. However, the character design is based on modern styles used in comics and toys.
Traditional paper cut artwork employs techniques that are few in number but critical to master.  With patience and mastery, these techniques are used to create very interesting characters. I simply used computer software to generate similar artwork that would have taken much longer to complete had I created them by hand'.
What are you now working on?
'Coincidentally, I used paper and wood cutting styles in a recent project, a brochure for Greenpeace China's campaign to promote awareness of river pollution. Also, we are starting projects that involve designing posters for independent films as well as online campaign strategies for other clients'.
Sounds good, Nod: good luck!
Follow MoonApe on Twitter, and don't forget to stumble on this below!