The fluidity, creativity and fidgety playfulness of Jon Burgerman's doodle art work never ceases to spark an interest in me, with his work appearing on almost everything from shoes to toys to people's arms.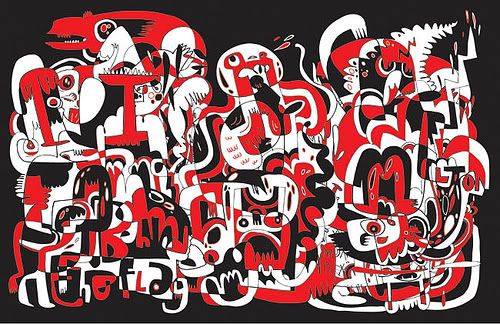 Jon's work has been exhibited in LA, London, Melbourne, Paris, Hong Kong and New York and he has had work featured in publications that include the Guardian, Computer Arts magazine, Creative Review and Design Week.
This post focuses on Jon's incredible large-scale mural work, with Jon having been kind enough to explain the process and tools behind spilling a healthy portion of his active imagination on the walls of a building.
Jon studied fine art but was drawing and doodling a long time before that. 'I've always fidgeted and needed a pen or pencil in my hand. It's a nervous disease of sorts'.
For his mural work, Jon will occasionally make a rough sketch, but never actually pencils the drawing in first. 'I always just start drawing it directly onto the wall and work out how it will work out as I go. It's sort of like playing with a big puzzle where there are multiple solutions but no room for error'.
Here, Jon demonstrates his skills with a pen and a large canvas:
Below, one gets a sense of the scale of the mural work involved, showing Jon's work at Pictoplasma in Peterborough and work in an Amsterdam showroom:
Although Jon uses all kinds of materials for some of his other work, including on his vinyl toys below, he uses Posca pens for the line work on the wall art and will apply acrylic paints or emulsion to fill in the larger areas. He will even use a heavy duty crane for some of those harder to reach areas!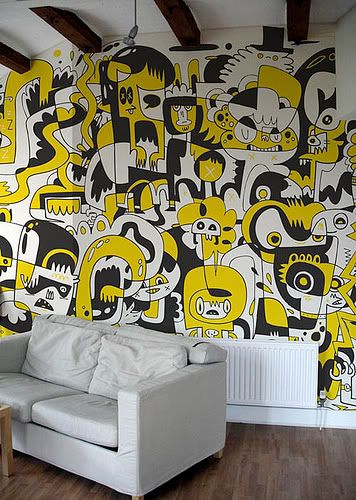 Jon is currently in New York working on some pieces for a group show and a solo show happening in August. It's best to check out his website for updates on where he'll be and what he's up to.
'I'm also collaborating with a musician on some musical pieces, which might end up being very funny / embarrassing / shameful. But the process is fun, and maybe that's the most important thing when trying out stuff for the first time'.
Thanks Jon!
Moonape: Follow me on Twitter!