It's been a while since I put up a sketchbook sneak feature, but I'm happy to put recent illustration graduate Jordan Kay in the spotlight. She's one of few illustrators I've seen to put such time and dedication to a series of great sketchbooks.
Packed full of photos, various day to day observations and drawings, celebrity quotes and intricate lettering, her sketchbook work is less artistic preparation, more completed artworks in themselves. I asked her a few questions about her work.
What got you into illustration?

'Hmm…junior year of high school, my friend went on a "check out colleges" trip. She wanted to major in art, so private art schools were definitely on her list. At the last minute I was invited. I threw myself & 2 random sketchbooks into the car. We drove around the midwest and looked at state universities, then the Minneapolis College of Art & Design (MCAD). I showed the two sketchbooks to the admissions counselors and they really liked it. Since I had never heard of a specialized major in illustration at the time, it sounded very professional to the 18-year-old me.
The next college we looked at was super boring. The group of high school students touring the campus had to go around and tell everyone what major they wanted to be. I said illustration', and promptly was told there was no major like that available there. So I went to MCAD and majored in illustration. It all happened so fast…'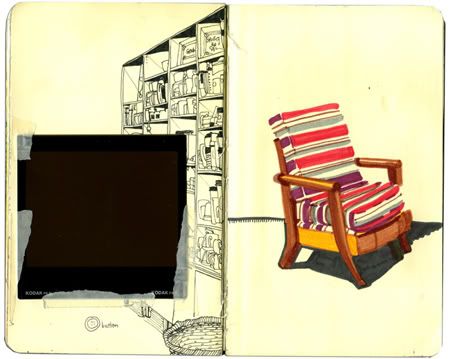 What are you tools of choice for your sketch books?

'I use everything from ink to colored pencils, to highlighters. It really doesn't matter to me. Whenever I go out the door, I make sure to have around five random drawing utensils in my bag. Whatever ends up in there is what I use'.
What inspires you to sketch?
I had to think about this question for a while, and I think I summed it up by three major things. Get ready…
Thrift store art: Those mutant imperfections in paintings meant to be photorealistic. I love it.
Basic recording of my surroundings. Whenever I want to remember a certain event from my day, I draw a small piece of what was around me, and it serves as a sort of personal diary entry.
Celebrity gossip! It's ridiculous, and I was never interested in that stuff growing up, but now it serves as amazing material to make illustrations from. What's cool, is that one sentence said by a celebrity during an interview, can be skewed 20 different ways, and totally is by celebrity gossip magazines! If only they hired on illustrators! Aye me'.
At the moment, Jordan is working on large format ink drawings depicting glamorous women from the 1920s to 1950s. 'It's really fun drawing their hair. I'm also trying to build up my body of pen pals. Art mail is the best. Nothing better, truly'.
All the best with that Jordan!
Moonape: Follow me on Twitter for updates!