For anyone with a close interest in hand-drawn illustration and typography, it would be hard to have been unaware of the work and influence of Brooklyn-based illustrator Mike Perry. He has had clients that include the New York Times, Saatchi & Saatchi, Microsoft Zune, Urban Outfitters and Zoo York.
Mike is known not only for his trademark style that is busy, organic and vivacious, but also his work in other areas, including authoring several books on hand-drawn illustration topics that include hand-drawn typography in: 'Hand Job', and hand-drawn patterns in: 'Over and Over'. He started a magazine called 'Untitled' in 2007, which covers his own various interests. I talked to him about his work and what he's working on at the moment.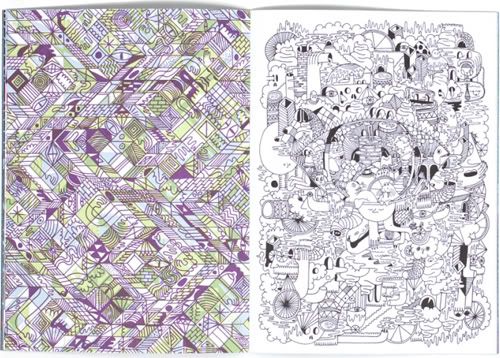 Mike has always been drawing, but after studying painting at college, decided to focus more closely on design and illustration. As is evident in the work he does, Mike is keen to avoid the use of the computer, believing that with hand-drawn work, the character and true style of the illustrator is more clearly revealed than through digital means. His most treasured tool is understandably his pencil.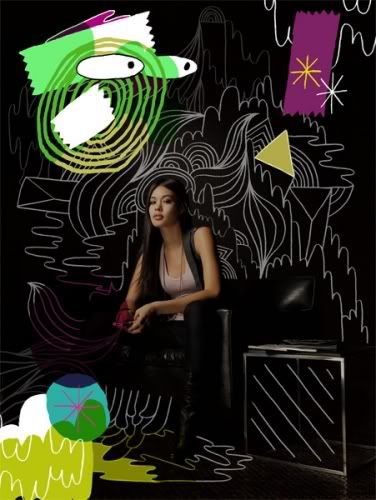 Mike's work process for his recent pattern work involve 'sitting down and going for it, then hope it works out.' This advice is important for all illustrators out there, who might struggle to get work started, or even finished. It just takes an initial effort to get started, even if the outcome is not yet realised, and push it until the work is complete.
At the moment Mike is working on 'a good pile of things. Some stuff for the x-games, some packaging for Brooklyn-based chocolatiers the 'Mast Brothers', an art show at Giant Robot SF, second issue of my magazine, and yes a new book…'
ⓒ Mike Perry, 2009
There is no doubt that Mike's style and the styles he has inspired make a refreshing change from much of the purely digitally produced work we are seeing in this age. His continuing success demonstrates the popularity and requirement of hand-drawn styles that we are seeing more and more of today.
Good luck with everything, Mike!
Moonape: Follow me on Twitter for updates