Situated in East London, founded in 2004 and with its gallery opening in 2007, Concrete Hermit is a shop and gallery that showcases the work of various contemporary illustrators and graphic designers. It has been commissioning artists that include Eboy, Richard Hogg, Kate Moross and John Slade for graphics used on t-shirts and more sold through the shop and through its website.
They also put together various illustration books that have been published through working with several well-known illustrators including Jeremyville, Skwak and Jon Burgerman.
James Joyce, Get Involved Print, 2009: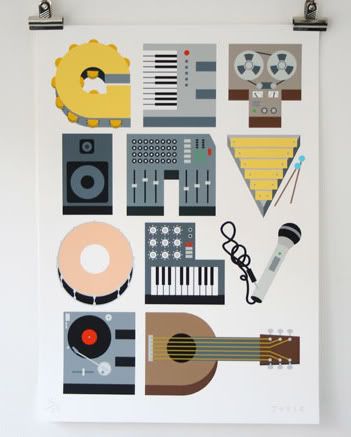 As Concrete Hermit make available a range of exclusive t-shirts and art prints to the Tate Modern shop, I've asked the founder, Chris Knight, some questions regarding the work he does and what he thinks of contemporary illustration in today's market.
Juju's Delivery, Record Eater Print, 2009:

What is it about your shop and gallery that makes it unique?

What we set out to do is to showcase artists whose work sits between the boundaries of illustration, graphic design and fine art; so we might hold an exhibition of sculptures by an illustrator who is usually known for their drawings or we might produce a t-shirt by an artist better known for working on books. It's about being open creatively and trying to provide a platform that allows a bit of freedom and a challenge.
Because we produce our own products and have regular exhibitions I suppose we are trying to do a little more than passively consume whatever the prevailing trend is.
Phil Ashcroft, 2009, We Stride Worldwide Exhibition:
Juju's Delivery, Boxergirl Print, 2009:


Is there anything in particular in terms of style and content that stands out to you when choosing illustrators to work with?

I look for anything that interests me, but I always try to look for something unique or different in the work of an artist. If they believe strongly in their work, they have their own style that tends to come through. I'm really looking for anything that is innovative, exciting and original. I've tried not to stick to a certain style; fashions come and fashions go but I'm interested in originality.

Andrew Rae, 2009, Tate Modern Series:
What are the benefits of your illustrators' network on your site?
The network was an attempt to engage with our audience a bit more. It's free to join and people can get involved in exhibitions and publications that other members are running. They can post up some images of their work and get feedback, or ask questions about anything, how to prepare a file for a screen printer or how to get some work experience. It's all grown quite organically so far.
We have some plans about where we're going to go with the network to make it a really useful resource and a source of inspiration for anyone interested in or involved in the fields of design illustration and art.
Richard Hogg, 2009: Off the Wall Exhibition: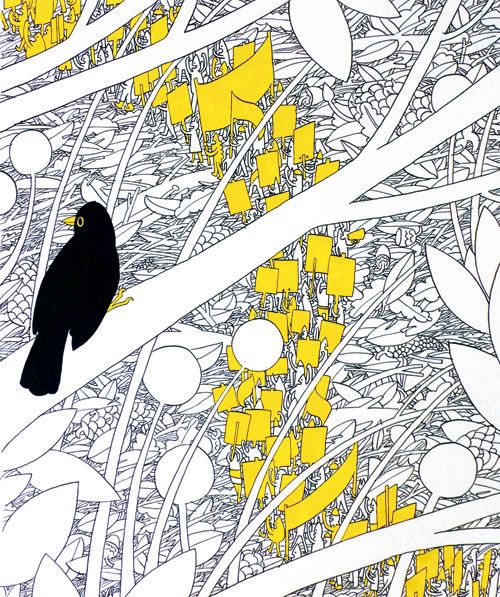 What's next in terms of the shop and gallery exhibitions?
We'll be hosting a show as part of the Icon design trail in September and we've got Chris Bianchi and Robert Rubbish who worked on Le Gun exhibiting in October. Then we are planning a big Christmas show in conjunction with Creative Review magazine.
Next year we are going to be doing a few shows out at bigger venues and on the product side we've got some more big collaborations planned along the lines of our recent project with the Tate Modern where we curated some exclusive T-shirts and prints for them. Then of course we are seemingly constantly developing our website and the next version should be bigger and better than ever!
John Slade, 2009, Space is the Place:
Where do you feel commercial illustration is heading, particularly under current economic conditions?

Commercial illustration will continue to replicate itself until it eventually disappears and we will wave as all the people who say "it's nice, but can you make it a bit more like this artists work whose blog I've just found" are rounded up and sent off into space to explore Mars, a planet that is a little bit like Earth, but not quite as good as the original.
Thank you Chris, and all the best with Concrete Hermit!
Moonape: Follow me on Twitter!